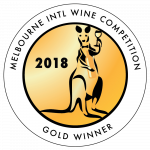 Gold Medal – 2018 Melbourne International Wine Competition; Category South Australian Shiraz over $35
From our picturesque vineyard nestled into the back of Mt Mackenzie, we bring you the 2013 vintage of our well respected Jack Harrison Shiraz.
Signs of greatness begin with deep blackish-red colours and a bright crimson hue giving evidence of our winemaking dedication. Lifted aromas of rich lums, cassis and black cherry are backed by French oak finesse.
A rewarding palate of luscious weighted ripe black fruits, hints of olive and five-spice continue to unfold with savoury notes leading into seriously succulent tannins.
Named after the grandson of Brockenchack founders Trevor and Marilyn Harch; Jack has every intention of becoming Brockenchack's future winemaker and viticulturist. This premium Shiraz is handcrafted to be elegantly smooth and approachable, now and for years to come. Made from our single vineyard Shiraz vines with an average age of 50yrs. These grapes were all hand picked during April, destemmed with berries 100% crushed, prior to fermentation maceration of 15 days in open-top fermenters. This wine was hand plunged twice a day before being basket pressed and left to mature in all new fine grain French oak for 22 months, prior to bottling in February 2015.